Descriptive Form
Title: ECHOS
Editor: Mara Marcu
Size: 6.5in x 8.25in
Pages: 406
Illustrations: Color
Cover: Hardcover
Published by: Actar Publishers
ISBN: 9781948765046
Library of Congress
Publication Data: 2018942687
Languages: English
Order:
https://amzn.to/2ENEjAV

Text: Echos; Mara Marcu
Image: Echos; ed. Mara Marcu
July 2018
SAID
In Print.


About ECHOS:

The book of student and faculty work, co-op stories, and snapshots from several events places the reader in the midst of Peter Eisenman's famous Grand Staircase, the living room of the Aronoff Center for Design and Art. Various constellations chart our diverse academic and social interactions—visible in the book's five main themes: anxiety, praxis, trope, chreod, and utopia. Discussed by lead figures in the discipline—Peter Zellner, Victoria Meyers, Aaron Betsky, Edward Mitchell, Peter Waldman, Nader Tehrani, Shashi Caan, Jaime Velez, and Craig Dykers—the themes expand on the issues of theoretical anxiety, architectural style, practice, typology, the less-than-ideal, the peculiar, and the sublime.

Anxiety, introduced by Peter Zellner, collects and synthesizes multiple contradicting theories that entertain with equanimity various solutions to design problems. Praxis, introduced by Victoria Meyers, looks at outcomes—physical, prototypical, digital or analog, multi-dimensional and multi-media, spoken, written or unwritten—as well as working methodologies that shape design thinking. Trope, introduced by Aaron Betsky, maps out trends, emergent ideologies, and design expressions. Chreod, introduced by Edward Mitchell, documents and interprets field conditions, rule-based processes, issues of transgressions, non-smooth and nomadic entities that cut across arbolic-like divisions. Utopia, introduced by Peter Waldman, while suspending various otherwise necessary constraints, allows for an euphoric and unapologetically optimistic view of the world, with the goal of envisioning daring possibilities otherwise unimaginable. Utopia, therefore, prefigures all other themes and is the ambition and imaginary locus of the multiple programs and opportunities at the School of Architecture and Interior Design at the University of Cincinnati.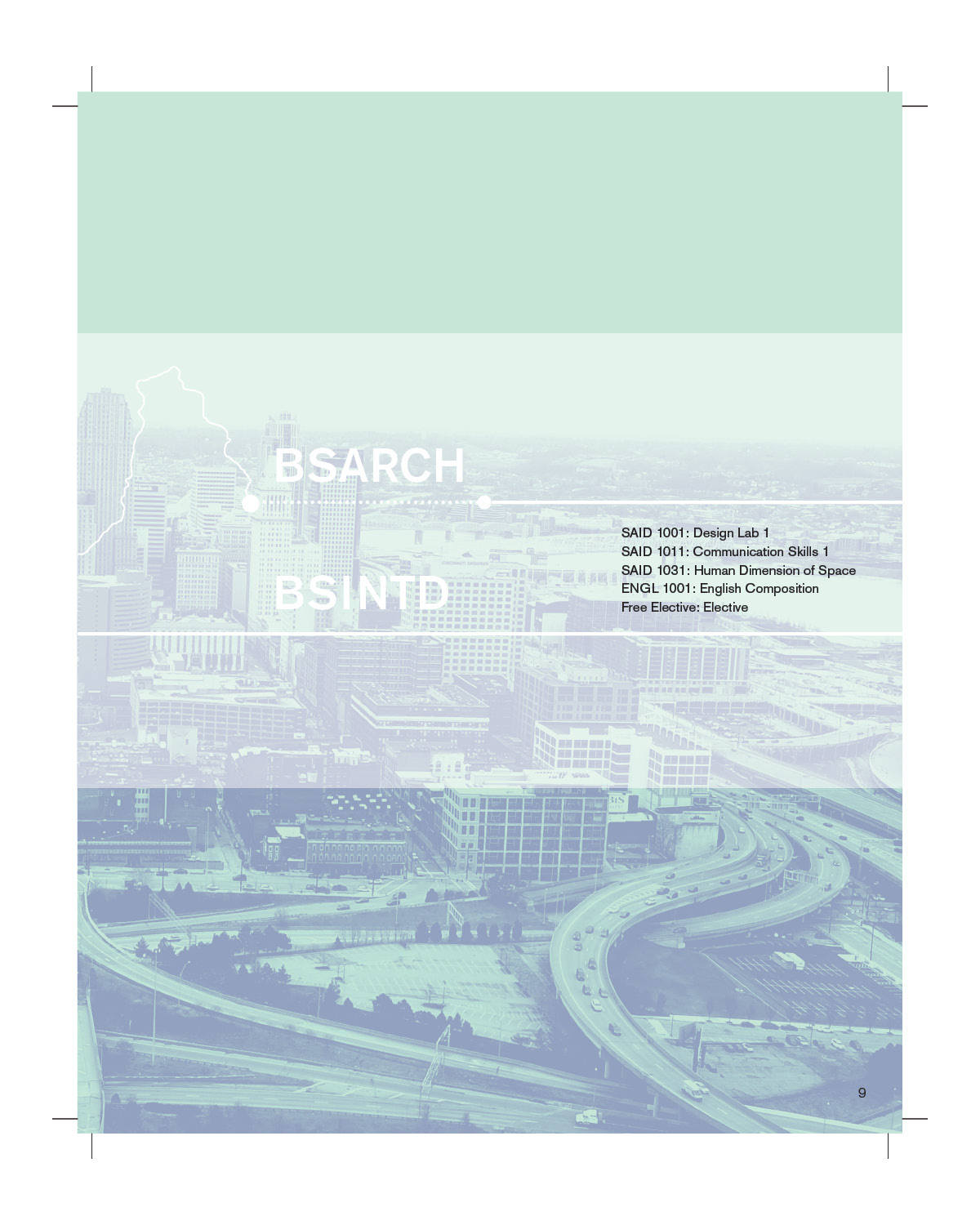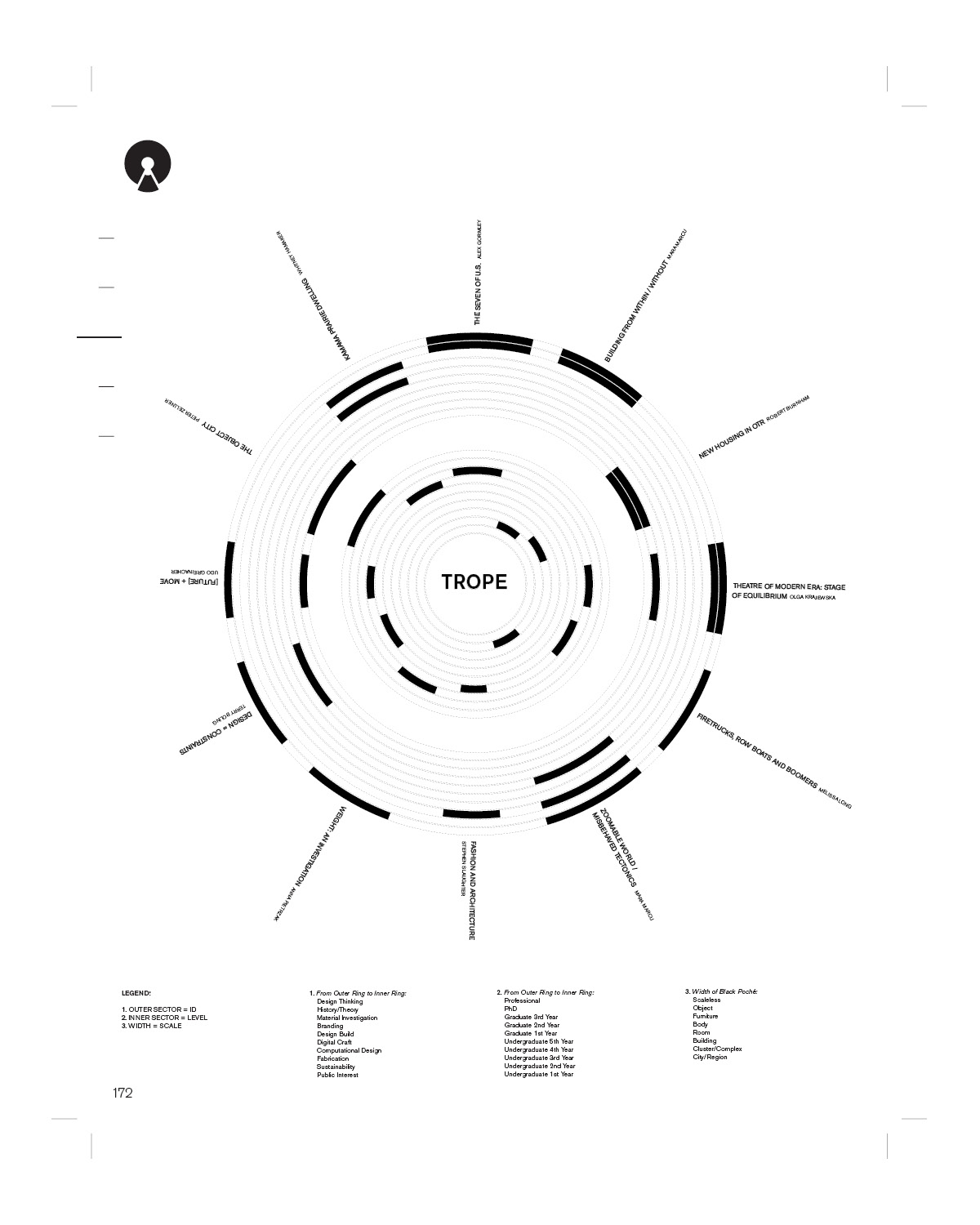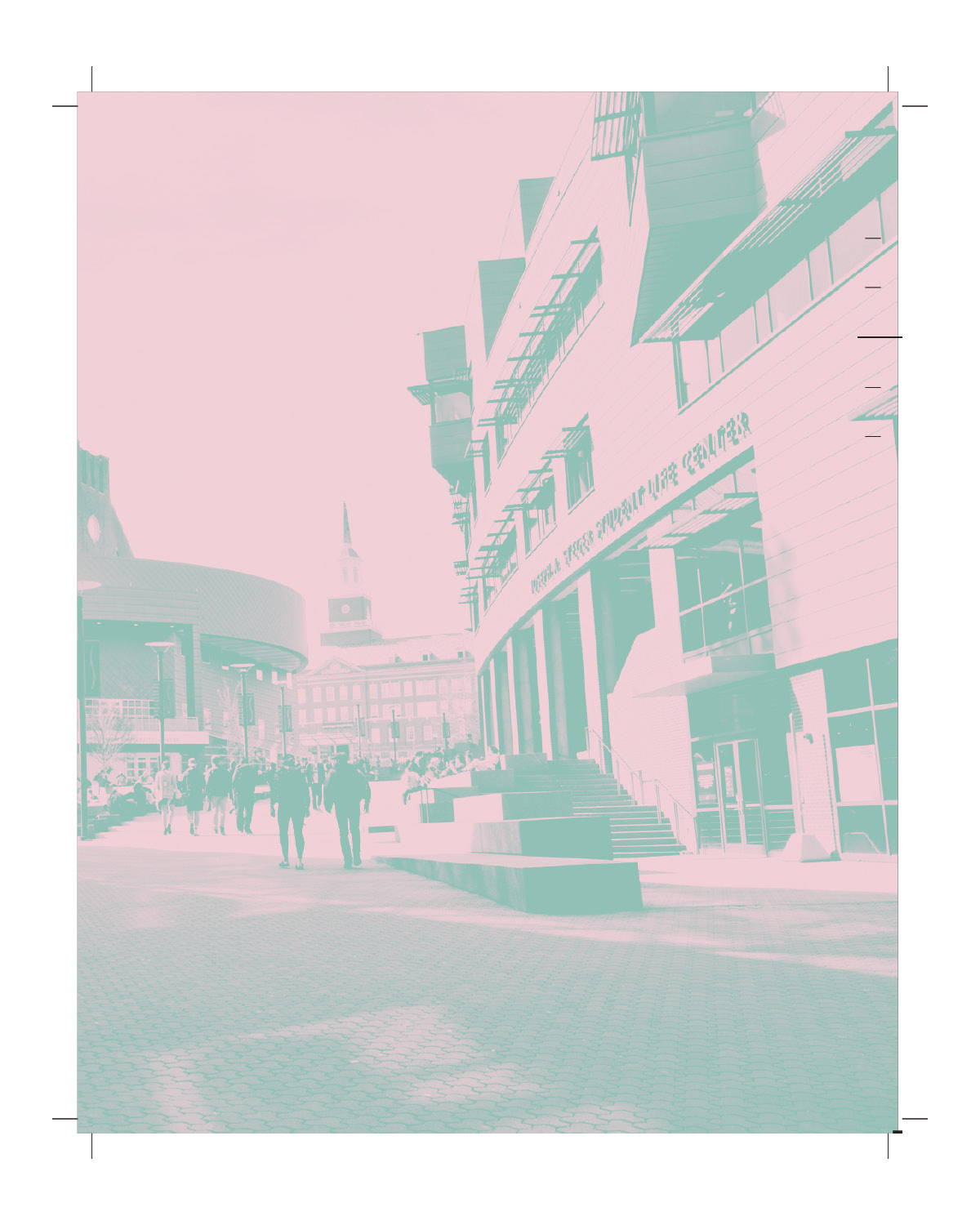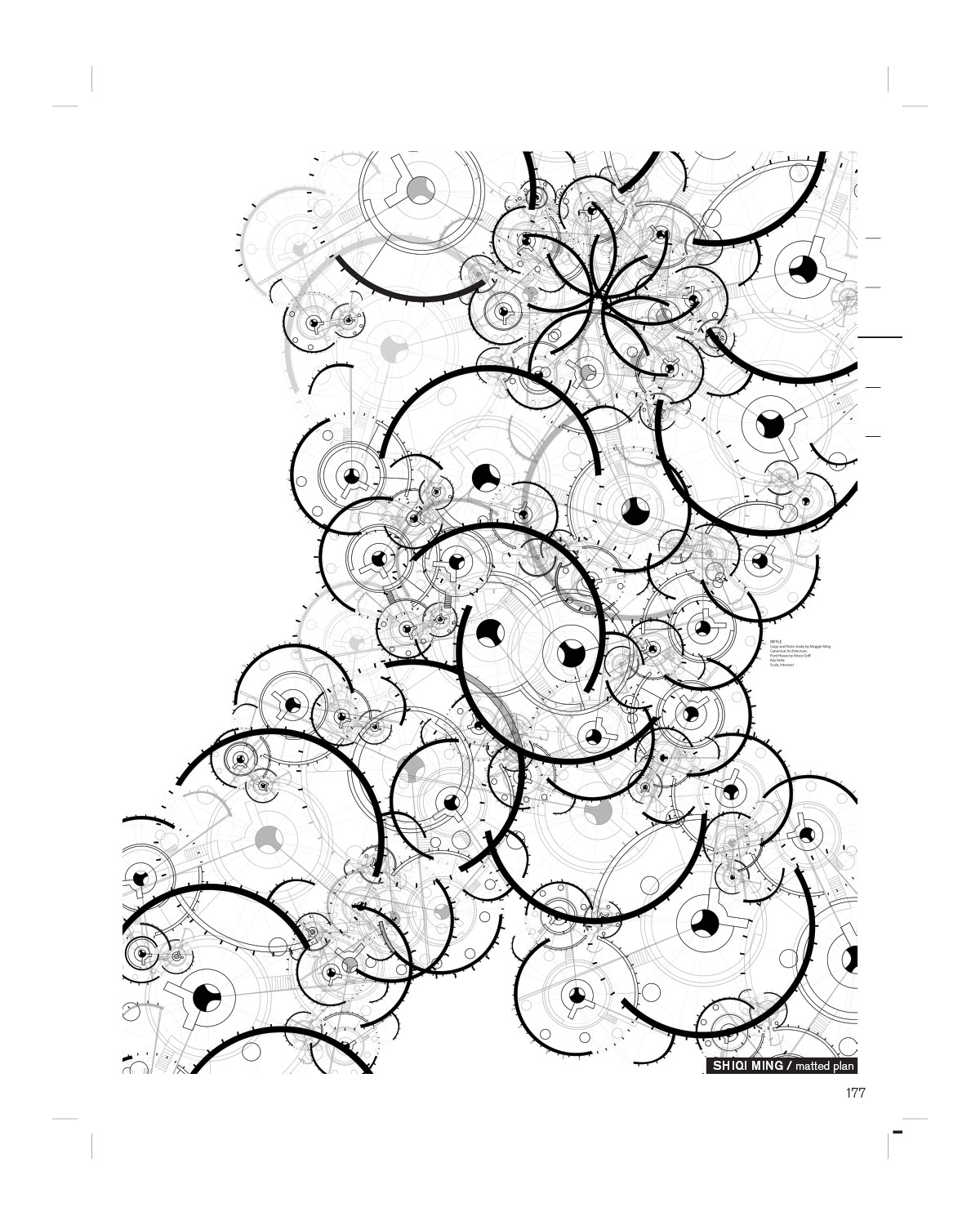 In general, the term echos means sound or voice. In music the concept refers to a chant sang in dialogue by a choir. This melodic structure has specific hierarchy, notes, an intonations. Although not as popular, echos has also become an increasingly accepted plural form of the noun echo. The spelling echoes is however more commonly found.



The publication ECHOS synthesizes the work done at the University of Cincinnati, School of Architecture an Interior Design, marked by moments of compression and release in our curriculum, which revolves around traditional semester-long sessions and co-op (curriculum-based paid internship) semesters.

Though intentionally dissonant at times, our program reinforces the relentless belief that the profession and academia do not need to build on one another in redundancy to reinforce each other. Professional intership semesters weave with a year round schedule of highly theoretical, experimental, and consequently research based courses.



Indexing student and faculty work, co-op stories, and snapshots from several events, the book places the reader in the midst of Peter Eisenman's famous Grand Staircase, the living room of the Aronoff Center for Design and Art, where the many student and faculty voices form a multilayered chorus of one of the most vibrant and diverse design schools in North America. Part of the College of Design, Architecture, Art, and Planning, the program benefits from its affiliations with industrial design, fashion design, communication design, art, landscape architecture, and urbanism. The opportunistic dialogue that inevitably influences the studio environment happens irrespective of disciplinary boundaries. This relaxes what might become an otherwise dogmatic curricular agenda, breeds new taxonomies and asks questions such as Amanda Lo's thesis – "Do buildings dream of swallowed futures?". In this way we elicit a ludic, nevertheless investigative attitude towards architecture and education.




all roads lead to SAID
Student Editors: Kyle Winston, Alan Alaniz, Chas Wiederhold, Christina Tefend, Jamie Kruer, John Meyer, Anjana Sivakumar, Erin Klein, Daham Marapane, Michael Sullivan, Brady Ginn, Seher Hashmi, Gael Perichon, Farshad Khalighinejad, Kristin Moreno, and Garcia Ghislaine

Editorial Board: Edward Mitchell, William Williams, Michael McInturf, Udo Greinacher, Elizabeth Riorden, Edson Cabalfin
Graphic Design: Mara Marcu with Student Editors
Copy Editor: Gabriela Sarhos
MMVII


DATA & MATTER
EXHIBITION
GAA Foundation
EUROPEAN CULTURAL CENTRE
"Time - Space - Existence"
during the
2018 Venice Architecture Biennale
May 26 - November 25, 2018
Palazzo Bembo, Venice, Italy
Exhibition curated by:

Marcella Del Signore,
Associate Professor, New York Institute of Technology, NY, USA

Nancy Diniz,
Assistant Professor, Rensselaer Polytechnic Institute, NY, USA

Frank Melendez,
Assistant Professor, City College of New York, CUNY, NY, USA
Text:
Exhibition Curators

Images:
Mara Marcu





Modes of perceiving, experiencing and inhabiting cities are radically changing along with a radical transformation of the tools that we use to design. Cities, buildings, bodies are complex and systemic organisms requiring approaches that engage new multi-scalar strategies to connect the physical layer with the system of networked ecologies.


Over the past two decades we have witnessed a series of projects with an interest in shaping architectural form coining terms such as 'datascapes' (1), and more recently, 'atmospheric thinking' (2).


In these projects computational technologies inform new relationships between information and matter, code and space to redefine new urban ecosystems where light, temperature, humidity, and biometric data are pre-conditions for spatial form.


This exhibition presents a group of projects by leading international designers using emerging and novel forms of reading and producing spatial conditions that connect/visualize data, responsive systems, and sensing/actuation technologies, through micro and macro scales.
The exhibition takes the opportunity to exhibit a range of projects, side by side, that transform data as an abstraction into spatial and experiential configurations. It aims at triggering discussion and debate on how the use of data in design methodologies and theoretical discourses have evolved in the last two decades and why processes of data measurement, quantification, simulation, ubiquitous technologies and algorithmic control, and their integration into methods of making architectural form and spatial experiences, are becoming vital in academic and industry practices.
(1) Mass, W. Van Rijs, J. De Vries N.
http://www.mvrdv.nl/en/about/Design_Philosophy
(2) 'Thermodynamic Interactions' An Architectural Exploration into Physiological, Material, Territorial Atmospheres' Ed Garcia-German, J. Actar Publishers 2017
www.dataandmatter.
wordpress.com
www.europeanculturalcentre.eu
Project Credits: BUBBLEgum; Adam Schueler, Ming Tang, Mara Marcu
Physical Installation: Bubbles; Adam Schueler, Peter Foster, Anousha Alamgir, Connor Tuthill

MMVII


BUBBLE
gum
How do the materials you and your colleagues selected help tell this story?
The project presented in Venice uses virtual materials. The physical installation has been presented in various instances: as a triangulated artifact using a virtual sheet material, reinterpreted with a marching cube algorithm and texture mapped with a variety of patterns, which allude to the initial inspiration drawn from two seemingly different yet intertwined sources: Islamic geometries and soap bubbles.
Text: Excerpt from an interview with Michele Ralston for University of Cincinnati; full access

here

.
Image: BUBBLEgum; Ming Tang, Mara Marcu, Adam Schueler


Explain how your exhibit examines conflicting attitudes.
Given the ubiquitous proliferation of digital techniques, "Optical Illusions of Volume" prompts an exploration of the many misalignments inherent in the design and manufacturing process. Through computation and augmented reality, a physical artifact is brought to life in Venice at Palazzo Bembo.
For this event, we have also incorporated augmented reality through the use of a mobile device. Visitors can visualize, interact, change textures, modify placement in space and walk through a virtual representation of our physical installation exhibited at the University of Cincinnati. While in reality certain decisions are frozen and limited to the selected material, spatial or budgetary constraints, in an augmented reality environment these considerations can be left open-ended.
September 2018

What advice do you have for current and future architecture students?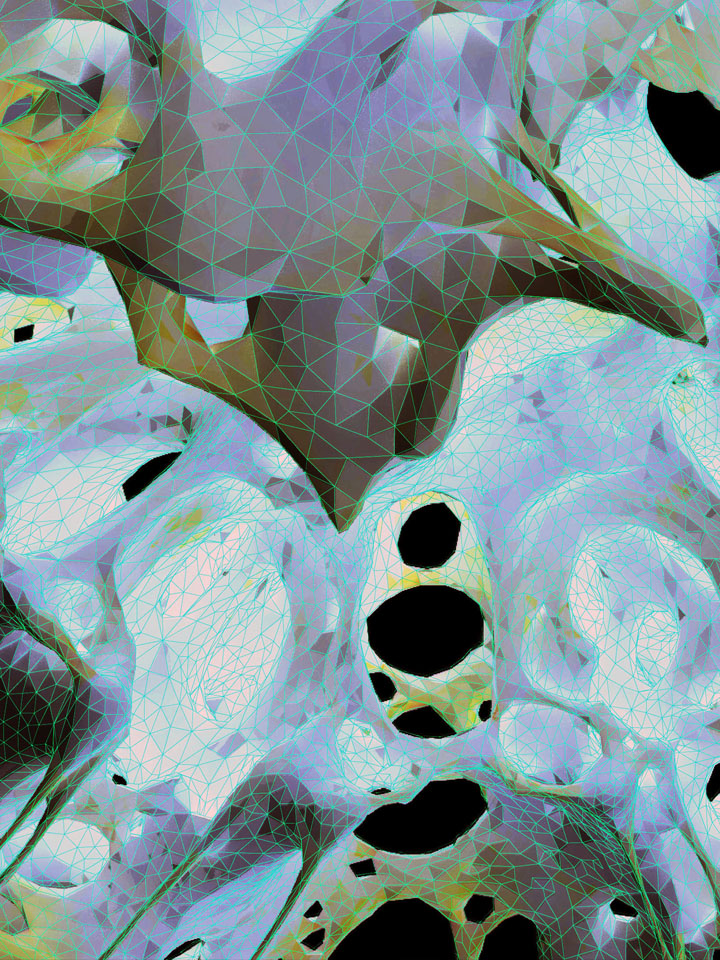 To embrace collaboration and exploit the accidental.
MMXII


Eliadean Philosophy and Jeffersonian References
SAMBÓ

, RECONFIGURED
Sambó Reconfigured - detail
Sambó Reconfigured - overall
Eliade's Secret Room


The term Sambó was first used by the Romanian scholar Mircea Eliade as an abbreviation for Shamballa. The term is a metaphor for what he calls
the secret room
, which refers to a lost or denied paradise .
In the Romanian vernacular, the dining room is replaced by what is called the clean room. This is generally locked and only used to receive guests. Children, who are often denied access due to maintenance considerations, tend to manifest an avid curiosity towards what lies beyond the locked door.
The Jeffersonian Sambó
Commissioned as part of The University of Virginia Teaching Fellowship, the project speculates on the typology of the Jeffersonian alcove apertures, truncated pyramid skylights (thirteen oculi are formed by the layered condition of the wall), and octagonal typologies (each unit being circumscribed in an octagonal wireframe which defines the aggregation logic) embedded in a porous wall, as the basis for the mythically charged, paradoxical Jeffersonian Sambó.
August 2011 - May 2013
UVa East Gallery Wall, 2012
Sponsored by the University of Virginia A School

Photography: Scott Smith Photography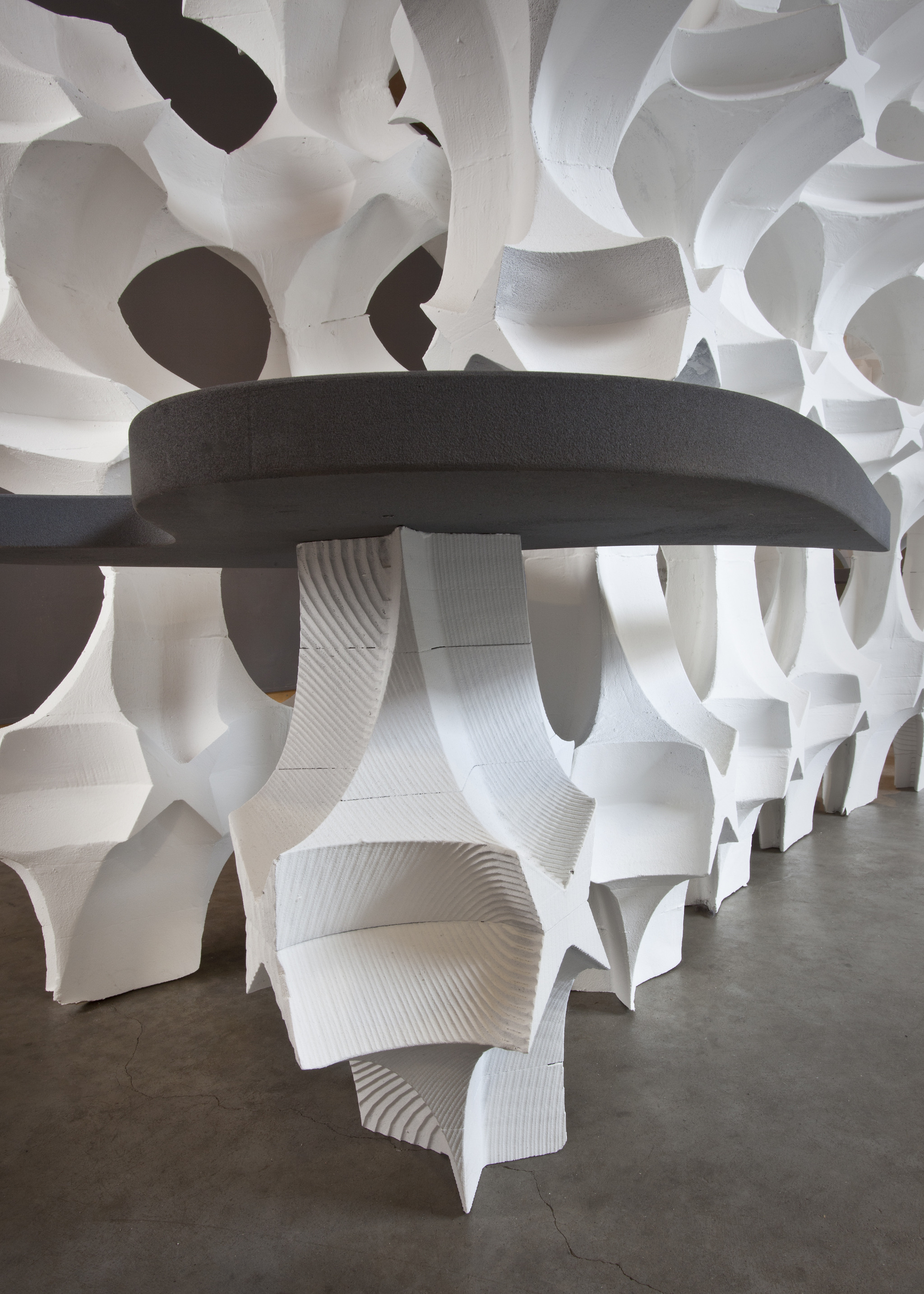 ︎
"Once I went there with several pieces of candy in my pocket.
Without realizing it I put one in my mouth. [..]
Impossible! It had no flavor. [..]
My mouth was dry. I couldn't move my tongue.
I couldn't do anything in Sambó.
I wasn't hungry, I wasn't thirsty, I wasn't sleepy.
I lived, purely and simply, in paradise."
Mircea Eliade
The Forbidden Forrest
"Of course, I realized then that they knew about my crime. They knew that I had entered Sambó with candy in my pocket and had even tried to eat a piece. [..] The rest of my family didn't know about Sambó. They hadn't turned their heads in time to see the direction indicated by the man with the mustache... I waited impatiently to be allowed to get out of bed.
On the third day as we were returning from the beach I managed to slip away from their watchful eyes and ran to the second floor. But I couldn't get in. Sambó was locked. I was crushed. I stayed there for a long while, trying the latch from time to time. In vain. Sambó remained locked. I prayed in my mind as I had been taught to pray. I recited all the prayers I knew, to God, to the Holy Mother, to Jesus Christ, and to my Guardian Angel, but Sambó remained locked. I prayed in my mind to the man with the mustache. I prayed to everyone at his table, those powerful men who knew unintelligible words, who were initiated into mysteries and then trembling I put my hand on the latch. In vain. The door still didn't open. I had been forbidden to enter. Sambó had become inaccessible to me."
Mircea Eliade
The Forbidden Forrest
Oculi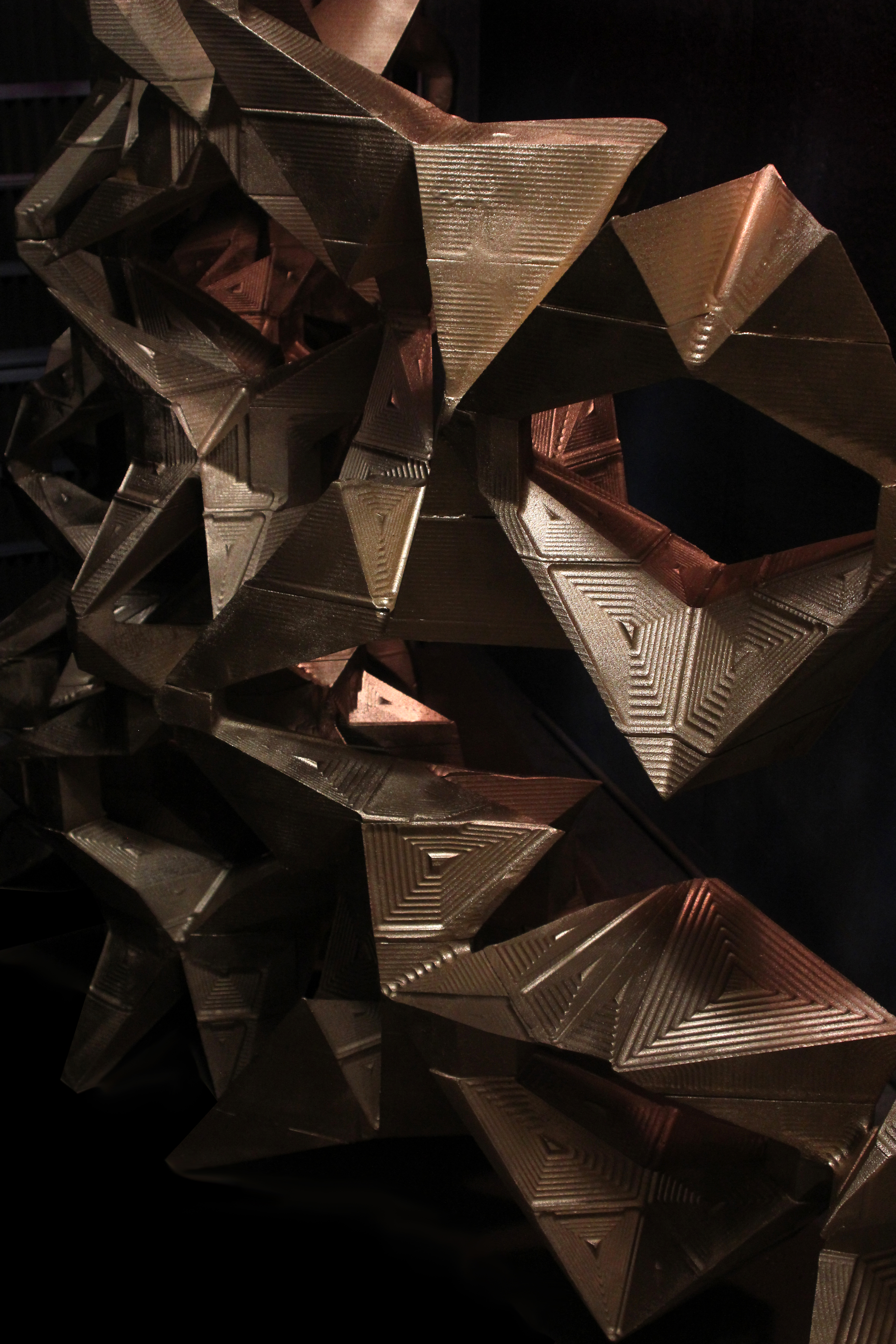 Text: Mara Marcu
Image: The Strange Wall; detail
October 2015
MMXII:

The

Strange

Wall
CNC
fabrication.
About:
The
Strange
Wall presents research conducted in the customization of CNC tool paths to generate complex surface texture. The machining of the artifact becomes apparent in the unique surface tessellation. The inherent double reading of ornament—as having both function and affect—anticipates larger forms of interaction between the inhabited and the uninhabitable in the Anthropocene.
Descriptive Form
Title: The Strange Wall
Designer: Mara Marcu
Size: 7 ft x 3 ft x 10 ft
Machine: 5 axis CNC router
Technique: flip-milled, customized toolpath
Material: 16 lbs. 6" thick high density polyurethane
Binder: Gorilla Glue, clamped
Finish: gold metallic latex spray paint
Exhibited at: SOFA 2014 Chicago, ACADIA 2015 Cincinnati



In music, the strange loop, refers to the phenomenon in which a pattern set by a composer, is then broken only to return whole again, as in Bach's canons. As Hofstadter remarks, implicit to the concept of the strange loop is the concept of infinity, since "what else is a loop but a way of representing an endless process in a finite way?" As seen in Escher's 'Metamorphosis', infinity plays a large role. Copies of one single theme often fit into each other, forming visual analogues to the cannons of Bach. Through a process of incremental subdivision modelling, a series of mutated taxonomies were developed. Studying each unit lead to a 'paste special' methodology, defining tectonic malformations of such taxonomies, the outcome becoming, an abstracted strange loop of tectonic possibilities.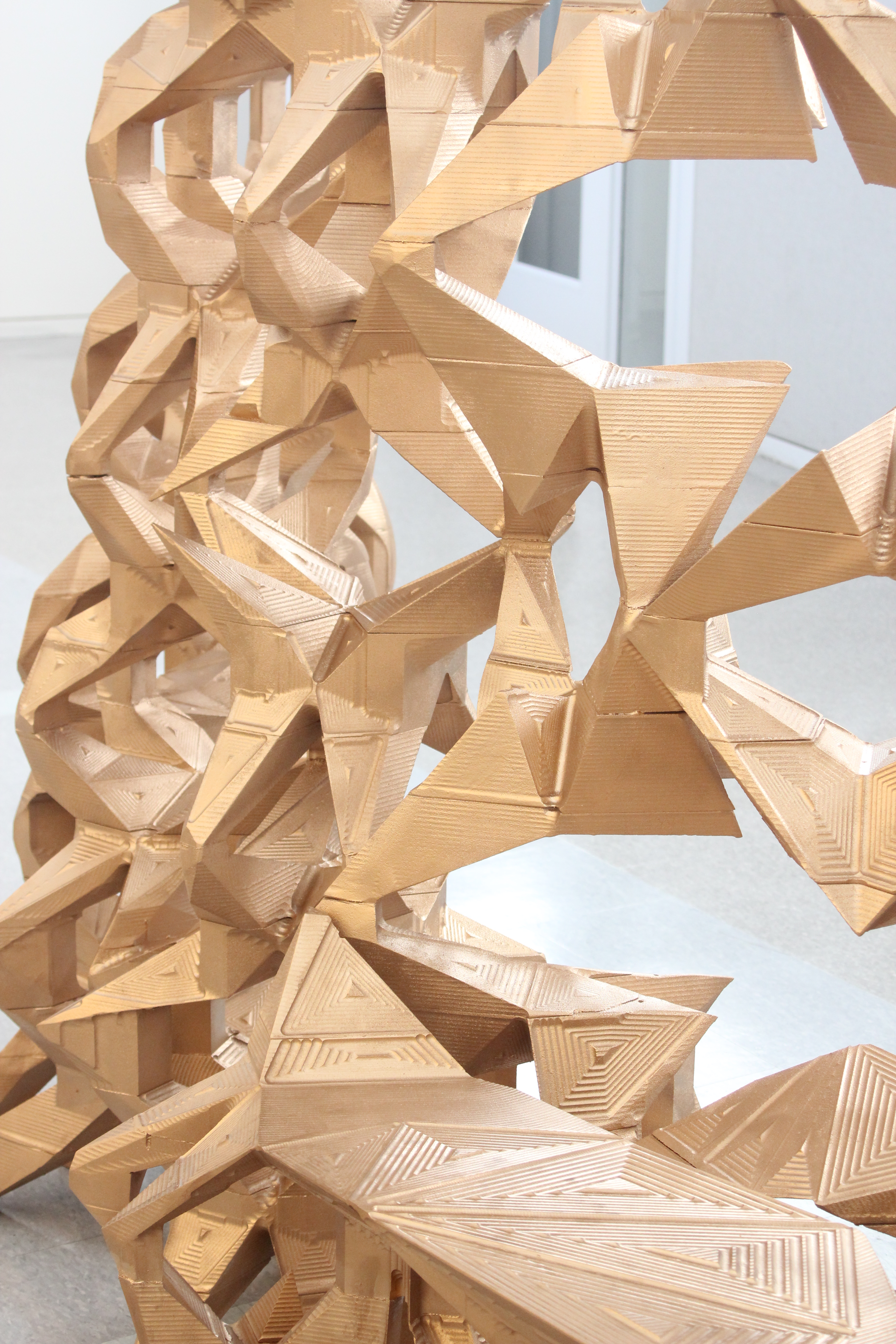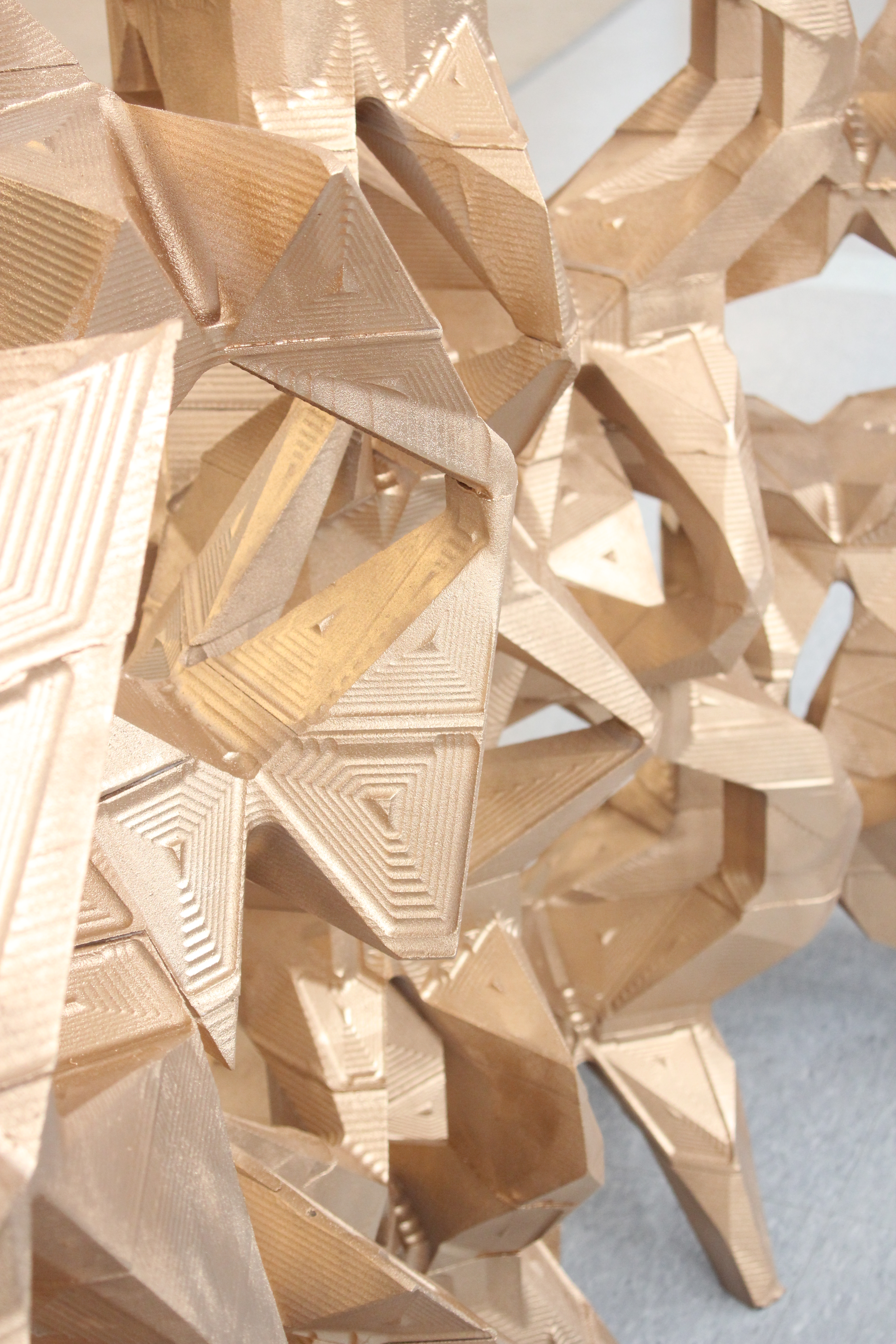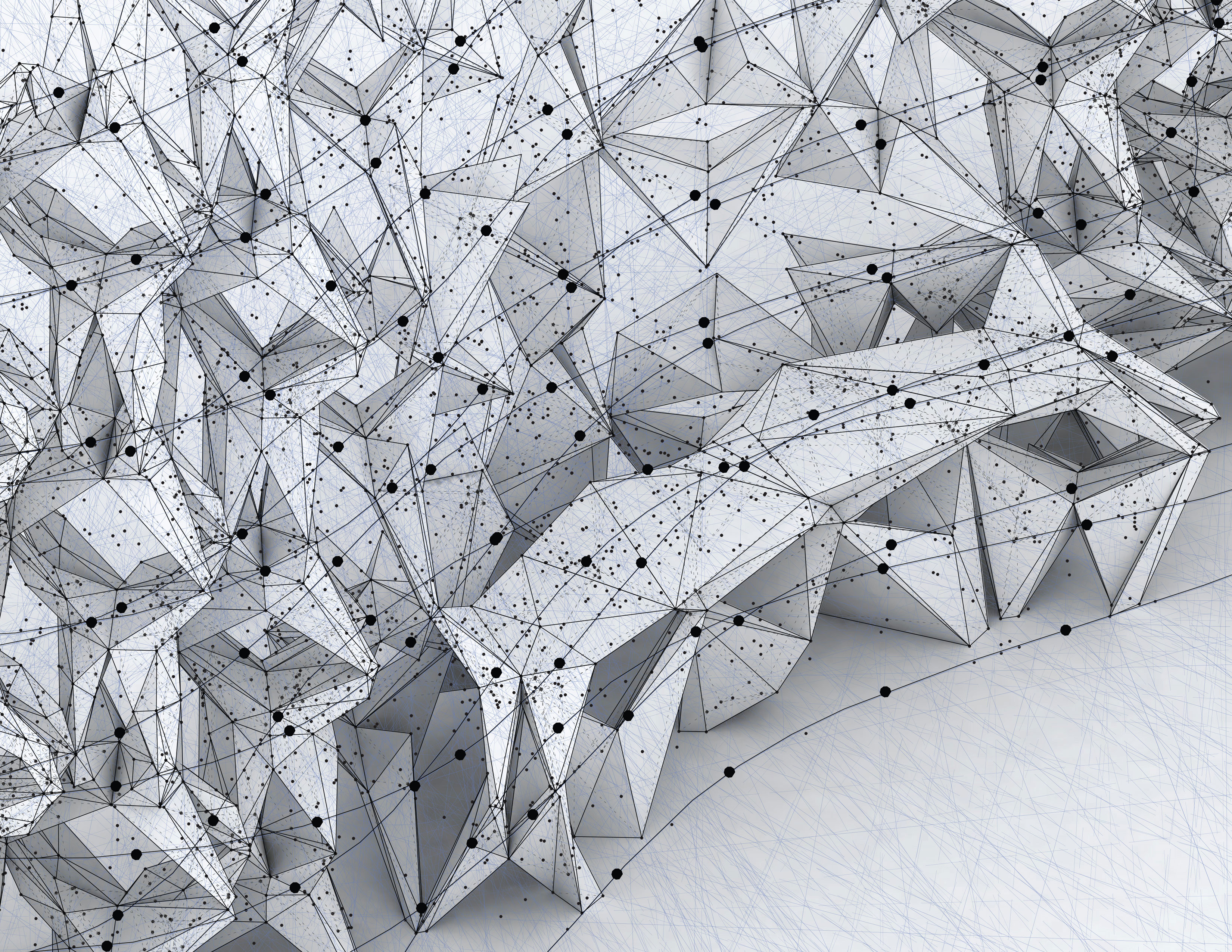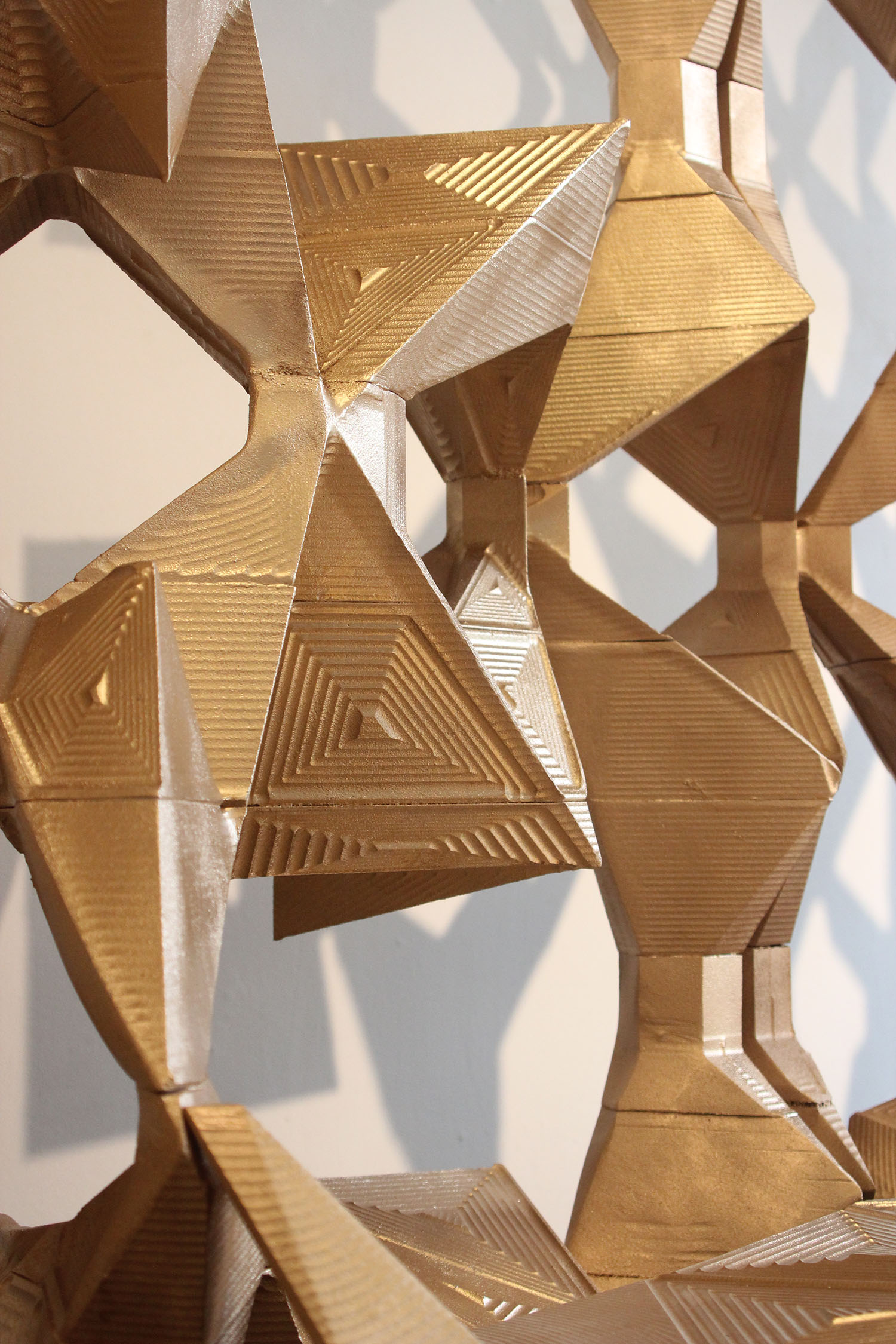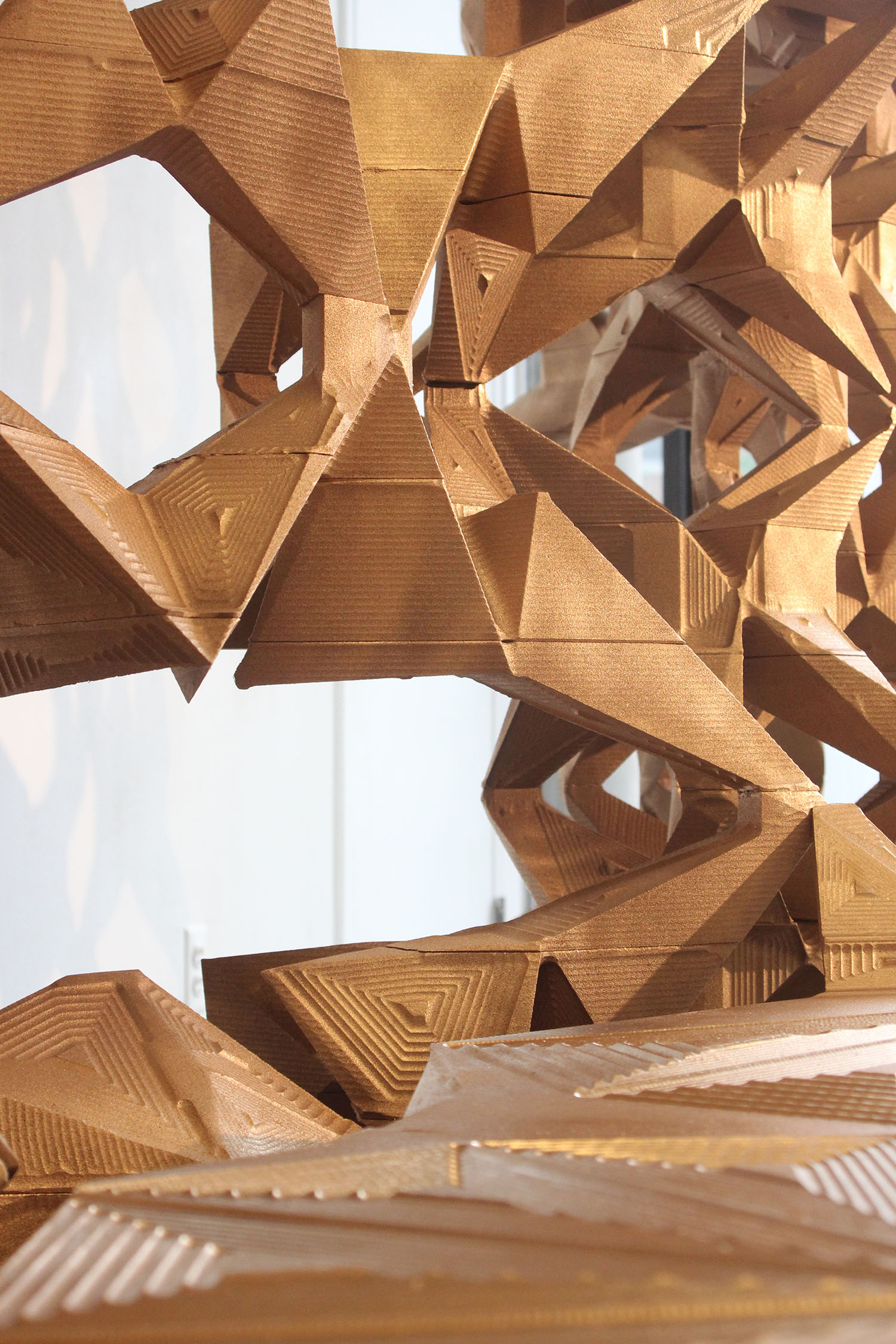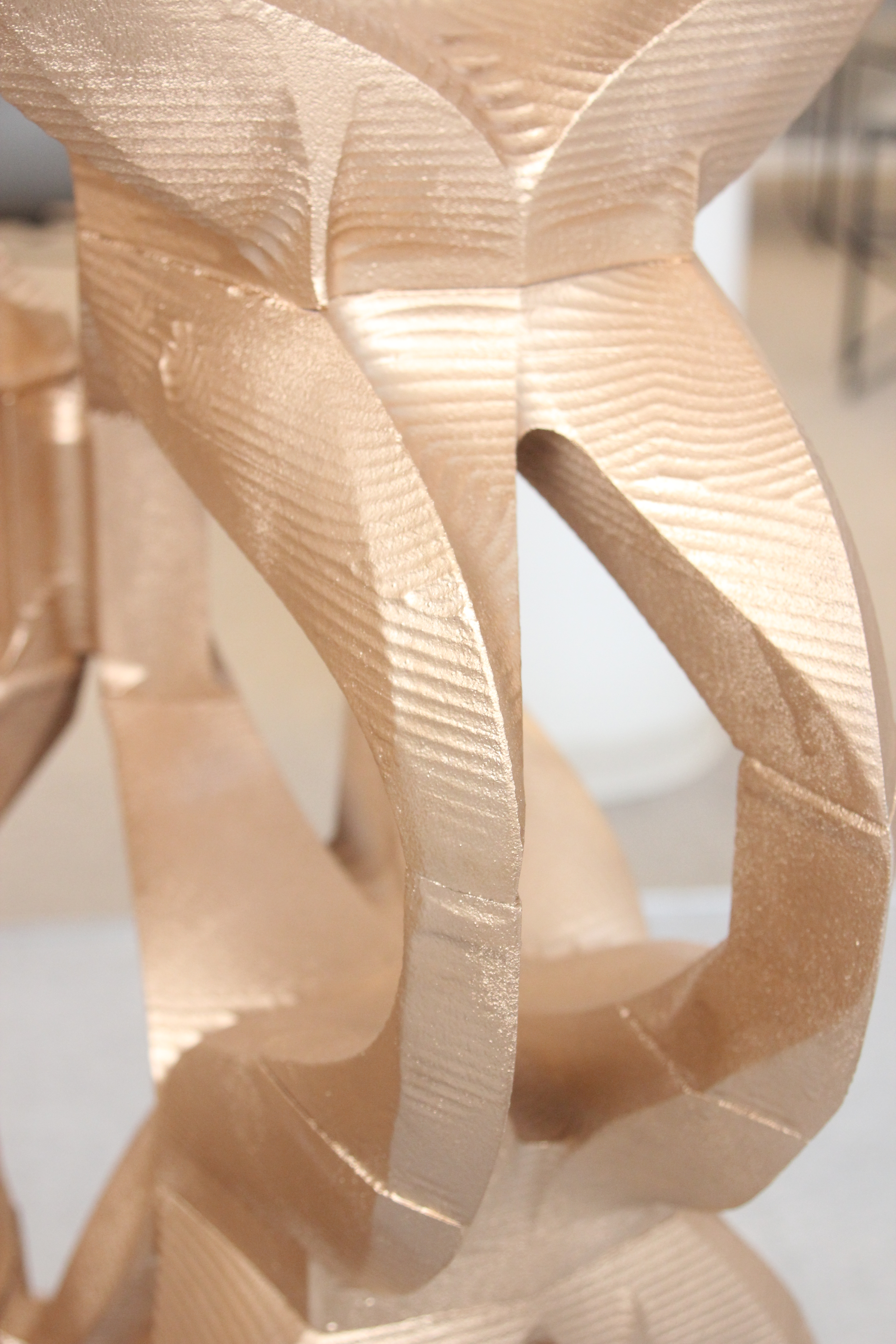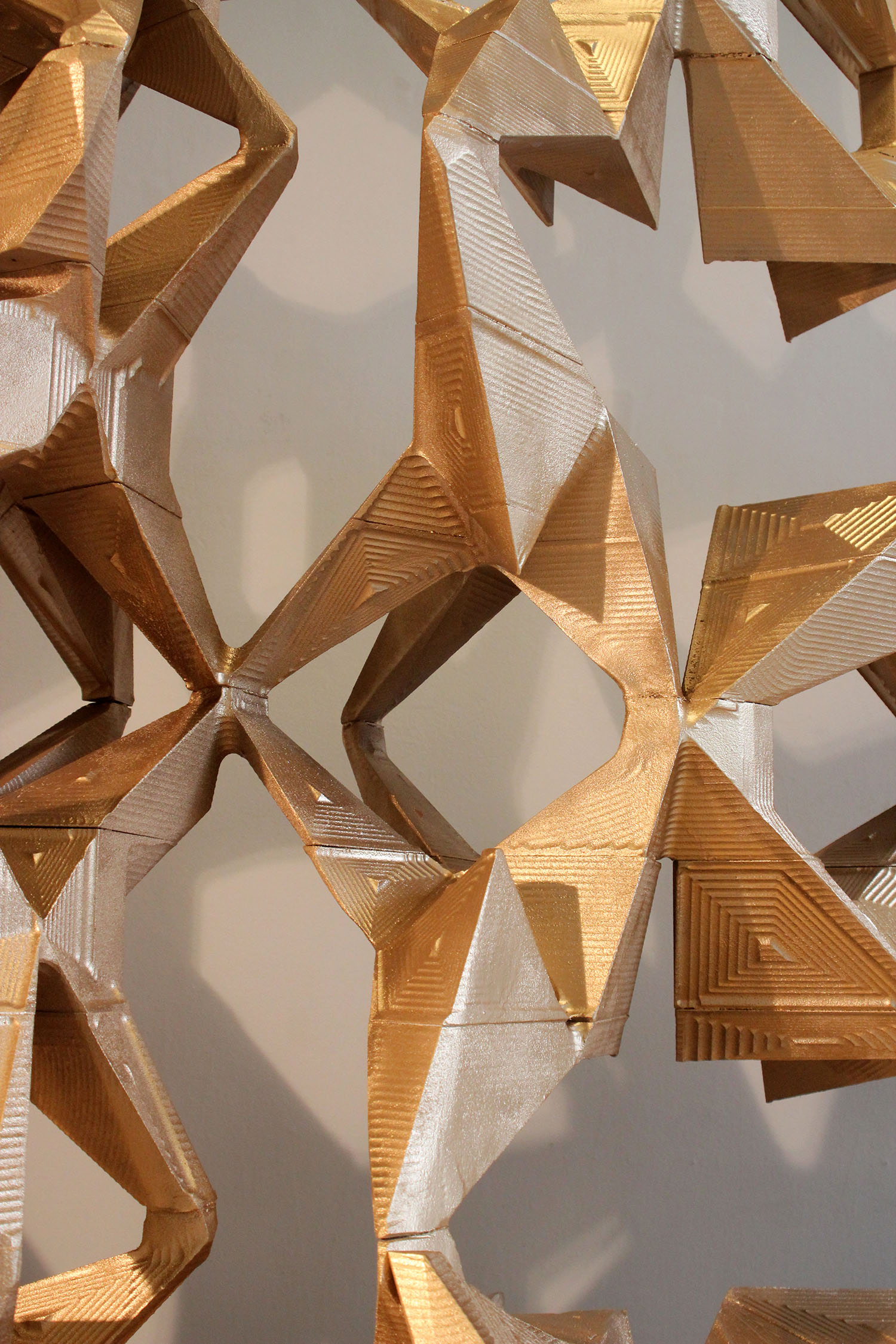 Designed with Dassault's CATIA design development environment, this installation pushes a 3-axis router to its limits with a unique undercut and variable modules.





A total of 66 cells with variable input points were instantiated within an armature using a knowledge pattern that automated the insertion of each UDF (user-defined-feature). Each UDF morphed function of the knowledge pattern that linked the coordinates for the insertion of the cell to inner parameters controlling the resolution of the base unit.
Eight sheets of high-density foam were flip-milled and joined with a two-part epoxy adhesive to create the final product. Following assemblage, the installation was coated with thin layers of latex primer and gold metallic paint. The installation was CNC routed using a combination of 16 and 20 lbs. density polyurethane.

CNC drawing
geometry
The Strange Wall, aggregation
---

MMXIII 2020 — Cincinnati, USA